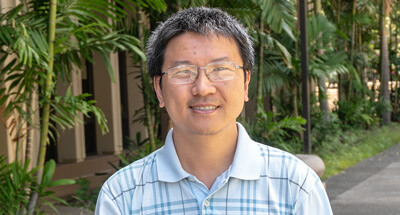 Yiyuan Xu
Professor, Graduate Chair
Office: Sakamaki C408
Telephone: 1 (808) 956-6268
Email: yiyuan@hawaii.edu
---
Browse My Publications:
Background
I received my PhD in Developmental Psychology from University of Southern California in 2004 and joined University of Hawaiʻi at Mānoa in the same year.
Education
PhD Psychology, University of Southern California, 2004
MA Psychology, University of Southern California, 2001
MEd, General Psychology, East China Normal University, P.R. China, 1999
BS, Psychology, East China Normal University, P.R. China, 1996
Courses
PSY 341: Social Development of Children
PSY 449: Development Psychology: Advanced Topics
PSY 600: Methodologic Foundations of Psychology
PSY 640: Developmental Foundations
PSY 741: Seminar in Developmental Psychology
Research
My research focuses on understanding cultural variation in children's social development using a goodness of fit theoretical framework that conceptualizes the developmental trajectories of children's behavior and social relationships as forms of mutual adaptation, or fit between the behavioral expression of their biological predisposition, and expectations of significant others, such as parents or peers and the limits of their tolerance for deviance from the behavioral norms. I have applied this goodness of fit framework to investigate shyness across cultural contexts and identified and distinguished a regulated form of shyness/withdrawal from anxious shyness in Asian and Asian American children, a finding that has been replicated in various cultural contexts, such as China, South Korea, Turkey, and Hawaii. My current research extends this line of work to understand contextual variations in adjustment of Asian and Asian Americans, including their experiences of early schooling, development of interpersonal perception, and expression of social anxiety.