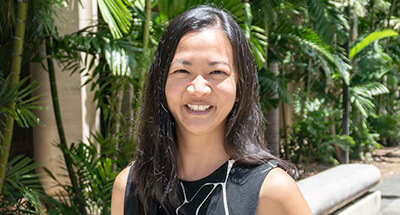 Joni Sasaki
Associate Professor
Office: Sakamaki C405
Telephone: 1 (808) 956-6673
Email: yjoni@hawaii.edu
Lab Website
---
Browse My Publications:

CSS Excellence in Teaching Award (2021)
Background
I was born and raised in Hawaiʻi, one of the most multicultural places in the world, and I have been fortunate to be a part of the UH Mānoa faculty and community since 2018. My interest in psychology came about from my early experiences with diversity, and I have had many educational opportunities and supportive mentors since then who have helped me pursue my goals as a researcher and educator in psychology.
Education
PhD, Social Psychology, University of California, 2012
BA, Psychology, Claremont McKenna College, 2006
Courses
PSY 250: Social Psychology
PSY 429: Experimental Psychology: Advanced Topics
PSY 459: Social Psychology: Advanced Topics
PSY 650: Social Psychology
PSY 751: Seminar in Social Psychology
Research
I use an integrated biological and socio-cultural approach to conduct basic psychological research on multiple forms of diversity—including ethnic, religious, and biological diversity—in the areas of social cognition and social behavior. My research has been supported by the Social Sciences and Humanities Research Council (SSHRC) of Canada and Sir John Templeton Foundation and has been published in the Journal of Personality and Social Psychology, Cognitive Science, and Proceedings of the National Academy of Sciences. I received the 2013 Society of Experimental Social Psychology (SESP) Dissertation Award for my work investigating the individual, situational, and cultural moderators of religion's effects. Please see the Culture and Religion Lab website for more information.