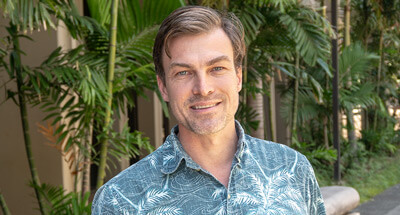 Background
I was born and raised in Sweden, but have lived and worked in many places around the world including Germany, England, Singapore, California, Massachusetts, and Hawaiʻi. I have a passion for exploration and decided early on that the brain is a worthy challenge. The brain is an imploded universe in itself with 86 billion neurons guiding thoughts and behavior. We still have some ways to go to understand how these operate, but the tools at our disposal are improving rapidly. My interests span all the new neuroimaging tools that exist to investigate brain structure and function. I also enjoy geographical exploration and have been on expeditions to the North and South poles.
Education
Research Fellow, Cognitive Neuroscience, UCL/Harvard University, 2008
PhD, Cognitive Neuroscience, Oxford University, 2007
MSc, Research Methods in Psychology, University College London, 2002
BA, Psychology, San Diego State University, 2001
Courses
PSY 212: Research Methods
PSY 225: Statistical Techniques
PSY 325: Cognitive Psychology
PSY 429: Experimental Psychology: Advanced Topics
PSY 439: Psychobiology: Advanced Topics
PSY 729: Research in Experimental Psychology
Research
I am a cognitive and behavioral neuroscientist and as such I am trying to understand how behavior and cognition links to brain activation. I investigate multisensory perception and attention using psychophysics and non-invasive brain-imaging tools. My current work looks at the perception of spatial representations between different sensory modalities, in particular vision and touch. I am also interested in understanding and advancing neuronal recordings of brain signals. In the Brain and Behavior Laboratory we measure both electrical and magnetic signals from the brain and use that to gain a fuller understanding of pathways and processes underlying perception.