Undergraduate Advising
The Psychology Advising Office is committed to providing all advising services during the Covid-19 crisis. Please stay safe and do not hesitate to reach out to your advisors for any reason.
The mission of the Psychology Undergraduate Advising Office is to assist declared majors to graduate with a Psychology BA, BS, or minor in psychology, as well as those students who are pursuing an MEd in Educational Psychology through the BAM program. Advisors are happy to help students reach their academic and professional goals. Advisors are available by email or in-person during walk-in hours.
---
Fall 2023 Remote Office Hours
In addition to remote advising via email, Zoom and phone appointments are available upon request on Monday through Thursday. In-person office hours at Sakamaki D412 are available on Fridays each week. If interested, email psyadv@hawaii.edu with a list of available times in line with the virtual appointment office hours below. Additionally, be sure to include your contact information (phone #) and we will work with you to schedule a time to speak.
| Monday | Tuesday | Wednesday | Thursday | Friday |
| --- | --- | --- | --- | --- |
| 10 am - 2 pm | 10 am - 2 pm | 10 am - 2 pm | 10 am - 2 pm | CLOSED |
---
Fall 2023 (Virtual) Major Meetings
We will be hosting all three of our major meetings for the Fall 2023 semester online via Zoom. Below you will find the dates and times of our virtual major meetings. Zoom links will be sent out to our pre-psychology email listserv and upon request.
September 18 from 12 - 1:30 pm
October 27 from 1 pm - 2:30 pm
November 29 from 10:30 am - 12 pm
---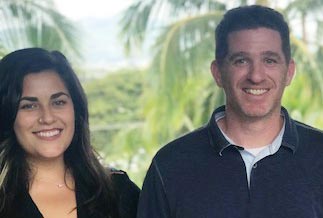 Undergraduate Advising Team
L/R - Advisor Celina Herrera and Undergraduate Chair Scott Sinnett.
---
Office: Sakamaki D412
Phone: 1 (808) 956-6679
Email: psyadv@hawaii.edu